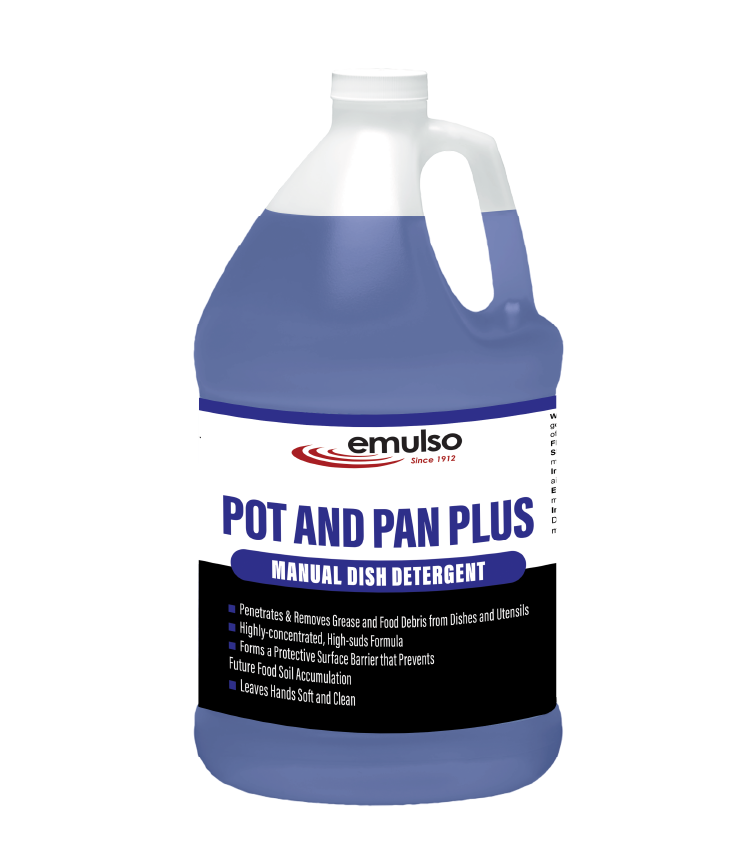 Pot and Pan Plus
MANUAL DISH DETERGENT
POT AND PAN PLUS uses a highly-concentrated, high-suds formula to remove grease and food soils from dishes and utensils. POT AND PAN PLUS leaves behind a protective barrier that prevents future food waste build-up and leaves hands soft and clean.
PERFORMANCE FEATURES
• Penetrates & Removes Grease and Food Debris from Dishes and Utensils
• Forms a Protective Surface Barrier that Prevents Future Food Soil Accumulation
• Highly-concentrated, High-suds Formula
• Leaves Hands Soft and Clean
| PART# | SIZE | COLOR |
| --- | --- | --- |
| D1-04 | 1 GL | Pink |
| D1-05 | 5 GL | Pink |
DISHES, GLASSWARE AND UTENSILS: Dilute 1 OZ POT & PAN PLUS to 10 GL water. Rinse dishes and air dry. It is not necessary to towel dry.
GREASY POTS & PANS: Dilute 1/4 OZ POT & PAN PLUS to 1 GL water. Let soak if necessary, then wash pots & pans in the usual manner.
MANUAL WASHING: Dilute 1/4 OZ POT AND PAN PLUS to 1 GL of water.
AUTOMATIC BAR GLASS SCRUBBERS: Dilute 1/4 OZ POT AND PAN PLUS to 2 GL of water.
NOTE: Soak items to be cleaned for a few minutes depending on the degree of encrustation. When regulations require a three-compartment sink consisting of a detergent, rinse, and sanitizing agent, use this product in the first sink, clear water in the second sink, and a sanitizer in the third sink.