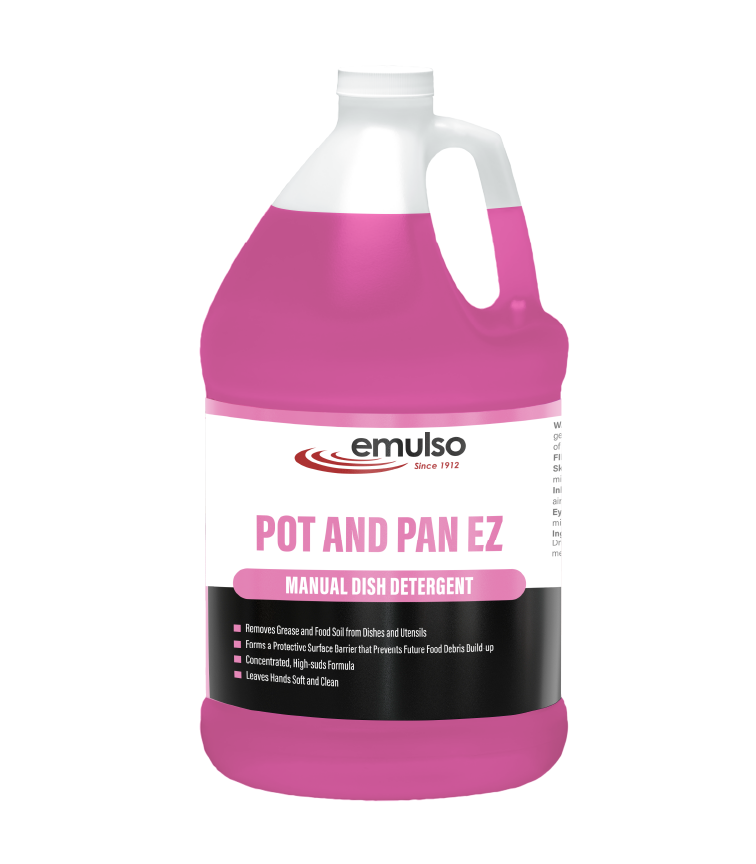 Pot and Pan EZ
MANUAL DISH DETERGENT
POT AND PAN EZ uses a concentrated, high-suds formula to remove grease and food soil from dishes and utensils. POT AND PAN EZ leaves behind a protective barrier that prevents future food waste build-up and leaves hands soft and clean.
PERFORMANCE FEATURES
• Removes Grease and Food Soil from Dishes and Utensils
• Forms a Protective Surface Barrier that Prevents Future Food Debris Build-up
• Concentrated, High-suds Formula
• Leaves Hands Soft and Clean
| PART# | SIZE | COLOR |
| --- | --- | --- |
| D10-04 | 1 GL | Pink |
| D10-05 | 5 GL | Pink |
For Dishes, Glassware and Utensils: Dilute 2 parts POT AND PAN EZ to each full sink of water. Allow water to run with force until sink is filled to the usual level. Wash dishes, rinse, and let air dry.
For Greasy Pots and Pans: Dilute 1 tablespoon of POT AND PAN EZ to each pot/pan and fill with hot water. Allow product to dwell for several minutes, then wash and rinse as usual.
For Hand Dish Washing: Dilute 1/4 OZ POT AND PAN EZ to 1 GL water.
For Automatic Bar Glass Scrubbers: Dilute 1/4 OZ POT AND PAN EZ to 2 GL water.