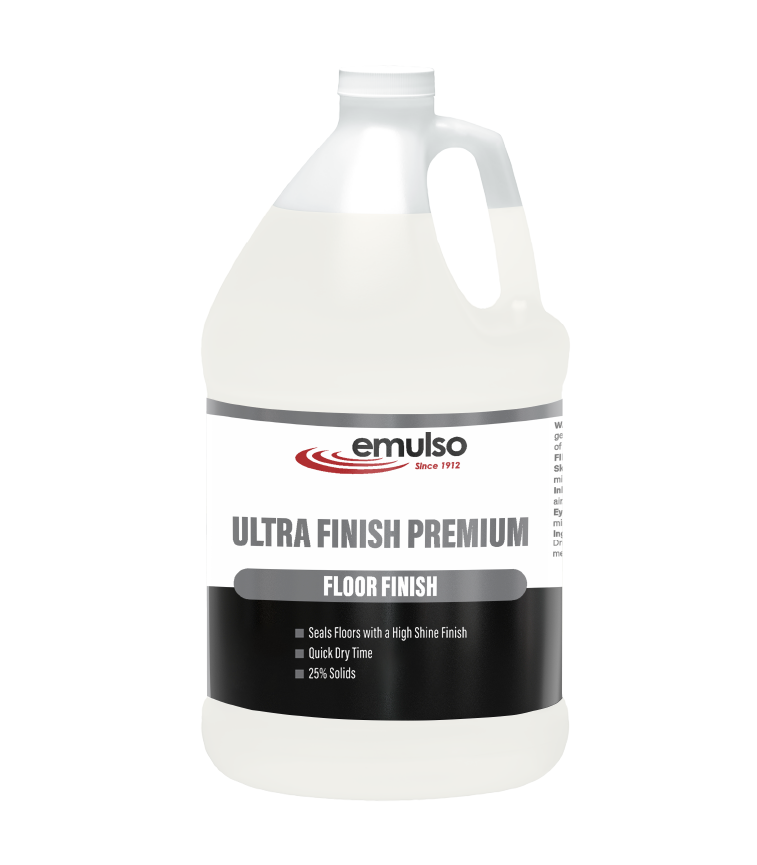 Ultra Finish Premium
FLOOR FINISH
ULTRA FINISH PREMIUM uses a high-performance formula to seal floors quickly with minimal finish maintenance.
PERFORMANCE FEATURES
• Seals Floors with a High Shine Finish
• Quick Dry Time
• 25% Solids
| PART# | SIZE | COLOR |
| --- | --- | --- |
| B11-04 | 1 GL | White |
| B11-05 | 5 GL | White |
| B11-55 | 55 GL | White |
FLOOR PREPARATION: Using a no-rinse, no-scrub liquefying stripper, strip off old finish and wax following product label directions. Make sure the floor is clean and dry before applying finish.
APPLICATION: Use a clean mop or applicator to apply a thin, uniform coat of ULTRA FINISH. Allow to dry for a minimum of 30 minutes after each coat. Do not apply more than 4 coats in a 24-hour period.
HIGH SPEED BUFFING AND BURNISHING: To maintain finish after initial application, use a quality floor cleaner and damp mop on a regular basis to maintain cleanliness and shine.
MAINTENANCE: Use the recommended neutral floor cleaner for routine cleaning. Worn areas or the entire floor may be scrubbed and recoated as required to maintain a uniform high gloss finish.