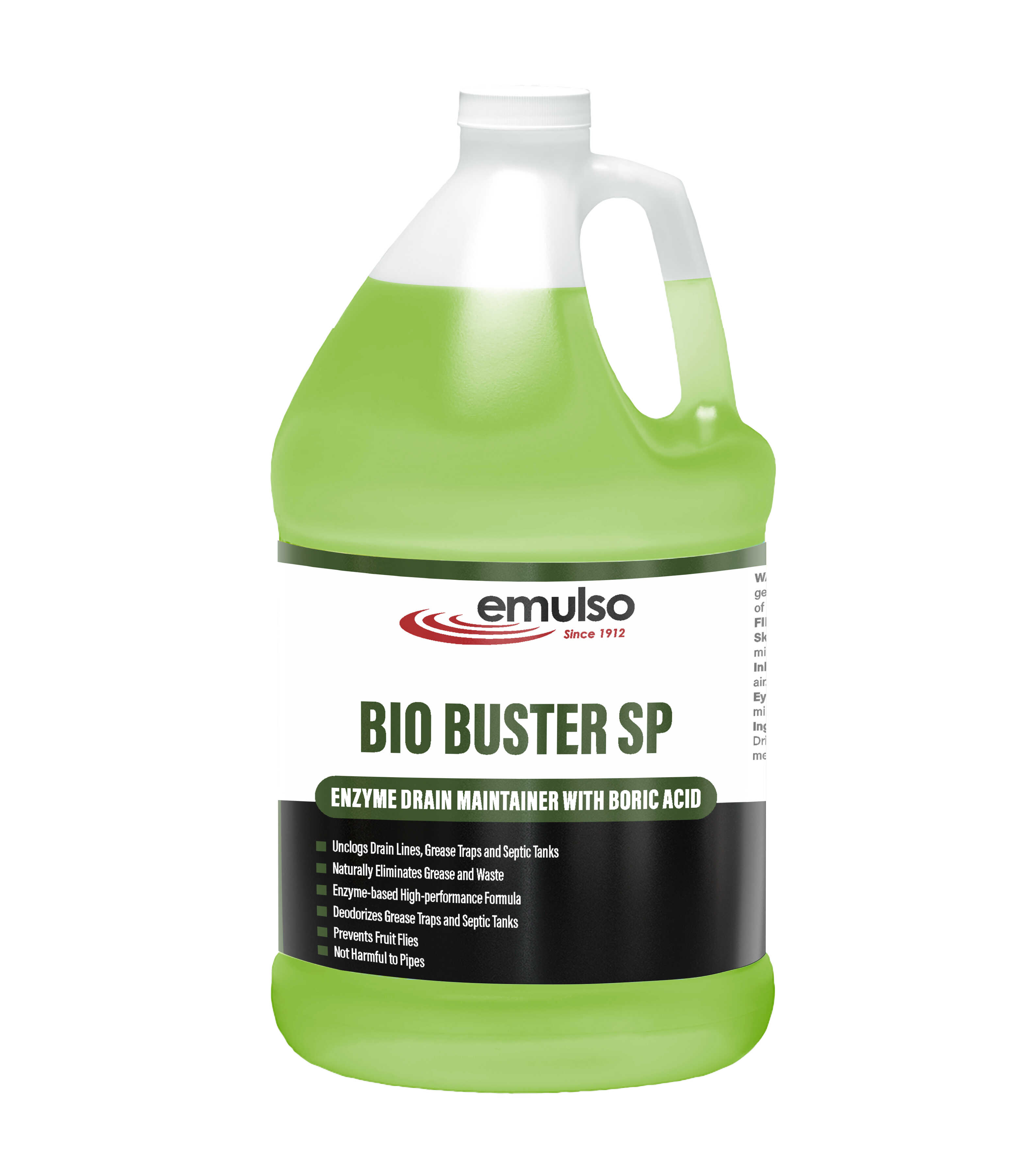 Bio Buster SP
ENZYME DRAIN MAINTAINER WITH BORIC ACID
BIO BUSTER SP uses an enzyme-based high-performance formula to naturally eliminate grease and waste, prevent fruit flies, and deodorize and unclog drain lines, grease traps, and septic tanks. Not harmful to pipes.
PERFORMANCE FEATURES
• Unclogs Drain Lines, Grease Traps, and Septic Tanks
• Naturally Eliminates Grease and Waste
• Enzyme-based High-performance Formula
• Deodorizes Grease Traps and Septic Tanks
• Prevents & Eliminates Fruit Flies
• Not Harmful to Pipes
| SIZE | COLOR |
| --- | --- |
| 1 GL | Green |
| 5 GL | Green |
For Sewer and Drain Maintenance: Pour BIO BUSTER SP directly into drain or sewer following pipe diameter dose instructions below. Treat twice weekly or as needed.
Pipes 2" Diameter: 4 OZ | Pipes 4" Diameter: 8 OZ
Pipes 6" Diameter: 12 OZ | Pipes 8" Diameter: 16 OZ
For Grease Trap Maintenance: Pour 4-5 OZ directly into sink or pipeline closest to grease trap daily. Flush with one cup of lukewarm water. Only treat grease trap when not in use.
When applied on a regular basis, BIO BUSTER SP reduces the accumulation of grease in drains, sum pumps, and grease traps and prevents fruit fly infestations.