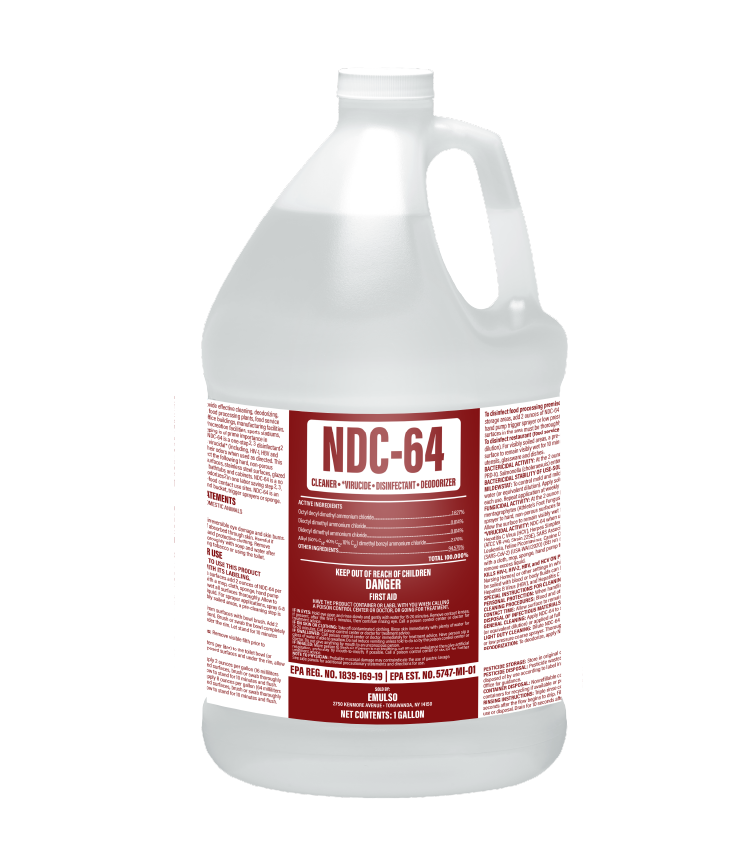 NDC-64
DISINFECTANT/DEODORIZER
EPA-registered NDC-64 uses a high-performance no-rinse formula to disinfect, clean and deodorize hard, non-porous surfaces in one simple step.
PERFORMANCE FEATURES
• EPA-registered Disinfectant and Deodorizer
• Disinfects, Cleans and Deodorizes in One Simple Step
• Use on Floors, Walls, Stainless Steel, Porcelain, Ceramic Tile, Plastic, Shower Stalls and
• No-rinse Formula
| PART# | SIZE | COLOR |
| --- | --- | --- |
| A38-4CS | 1 GL | Clear |
| A38-5G | 5 GL | Clear |
For General Cleaning & Disinfection: Dilute 2 ounces NDC-64 to 1 part water. Coat surface thoroughly and allow product to dwell for 10 minutes, then wipe away excess liquid.
For Sprayer Cleaning: Spray NDC-64 6-8 inches from surface. Agitate product with a brush, sponge or cloth. For heavily soiled surfaces, a pre-cleaning is required.
For Mildewstat Cleaning: Dilute 2 parts NDC-64 to 1 part water. Apply to surface with a cloth, mop, sponge or hand pump trigger sprayer making sure to thoroughly coat all surfaces. Allow product to air dry. Repeat application at weekly intervals or when mildew growth appears.
Prepare a fresh solution for each use. For deodorization, follow disinfection directions.